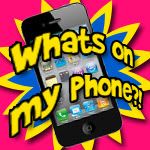 Well here is what's on my phone...Yes, you are seeing right..it's a photo of MY baby dolls..lol..
As most of you know, I've had the blonde doll for awhile now. I like to dress her up in different holiday/season clothes. My neices love playing with her especially Allie. The other baby came from a yardsale this past year. I LOVE dolls and could spend big bucks on them...too bad I don't have big bucks :) I got the lil' thumb sucker for a buck. She is adorable but her eyes are creepy-don'tcha think??
Anyways for a buck I just couldn't resist. The good thing about this doll tho, is when "she's" put in pink she makes a cute little girl...but thankfully the dolls previous owner hacked it's hair super short (thank you little girl who isn't suppose to be playing with the scissors!) so this doll when dressed in blue becomes a very cute little boy too!! Wait? Does that make me officially the owner of a cross dressing baby doll??
The reason I have this photo on my phone is because I dressed them in their Valentine clothes and was talking to my sister Shannon while I was doing it so I sent her a photo..and that ladies and gentlemen is why I am such a big dork :)